*This post may contain Affiliate links. I may receive a small commission, at no cost to you, if you choose to purchase through these links. Thanks, Friends!*
Going Stir Crazy? I know I am! Trying to "crisis school" 5 children and still get things done?
Oh.
My.
Word!
Here's a little good news to brighten your day!  Premier is doing 2 amazing things to keep us from going stir crazy this April. 
50% Hostess benefits!  Yes!  Get some friends together online and let's cheer each other up!  Message me for more information on a fun, interactive, quarantine-friendly girls' night!  I'd love to cheer you and your friends up!

Stir Crazy Specials!  All throughout the month of April, Premier will be having "Stir Crazy" specials, where select items are 30% off!  What!?  Yes!!! Every Thursday in April, this list will update!   Check out this week's specials here.    
One of this week's specials, is a favorite of mine! The Cashmere Necklace! I have the gold version, but due to popular demand, it now comes in silver. And, guess what? The silver version is on sale this week!
Check it out!
I LOVE that you can do so many things with this one too. It's so versatile.

The arrow chain is removable, so you can wear it alone. I like to pair it with a simple t-shirt. It's great for busy mamas on the go!
The short chain is also removable. You can wear it as a necklace alone, with the arrow chain, or all together with the beaded chain. How fun is that!?
You can also wrap it as a cute bracelet. I love that!
Finish your look with these simple social earrings. 

You can see the full list of specials here! Don't forget to check back next Friday for next week's Stir Crazy Specials.   
You can find my cute cardigan on Jane.com. It's one of my faves!
Don't just sit there and go stir crazy this month, add a little happy to your life!
Xo,
Brooke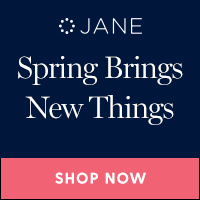 Sharing is Caring! If you've enjoyed today's post, I'd be so grateful if you would share it with your friends. Thank you!