*This post may contain Affiliate links. I may receive a small commission, at no cost to you, if you choose to purchase through these links. Thanks, Friends!*
I am currently recovering from a hysterectomy and hernia repair surgery. I've felt awful for almost 2 straight years, and I finally, finally, agreed to surgery. I already feel better! Holy cow! I have so much more energy than all the days in the last year combined! It's crazy! I knew I felt bad, but didn't realize the extent to how it was affecting me and my family, until now. I'm so thankful for a good specialist and surgeon that helped me!
Don't Bust a Gut!
Since I'm now home by myself recovering, Coach texts me daily, "Don't bust a gut today!"
One of my closest friends told me that after her hysterectomy, she started feeling a million times better after week 3, so she decided to vacuum. She ruptured her stiches and had to have surgery again. Yikes! I've heard this story over and over again. Wonder why? Wonder if it's because I'm stubborn and a tad bit OCD (well, maybe more than a tad bit), and all of my friends are afraid I'm going to "bust a gut." Like literally.
For a busy type-A foster mom that hates dog hair, but has a dog, that loves vacuum lines and a clean house, and does 3 million loads of laundry a day because boys…For this mom, not doing what I normally do is not easy. But I'm not about to complain. I had boys down here vacuuming last night and Coach has done an amazing job keeping up with laundry. Me?  Well, I've caught up on all of my favorite episodes of Home Town and all of the Marvel Movies. What can I say? I try to be well-rounded. 
Getting Dressed will lift your Spirits
After a few weeks of wearing baggy pajama pants and over-sized shirts, I wanted to get dressed. Because sometimes getting dressed just makes you feel better. Well, let's just say I'm limited to leggings with a soft waist band because swelly belly is a thing after surgery, and as the day wears on the swelling gets worse. I guess it could also be from all of the sweet treats my friends have been dropping by…. but back to my point…
5 Pro Fashion Tips
Here are my best fashion tips for when you're recovering from a hysterectomy and have swelly belly, or just had a baby, or, fill in the blank, because you're just feeling frumpy. 
Sing in the Shower.  Sing?  Yes.  Sing. Listen to uplifting music. It does a soul well!  Sing, sing, sing at the top of your lungs like nobody is listening. Oh, and don't forget the shower part. That's important. Use all of your smelly-good soaps and shampoos.  It will make you happy.
Fix your hair and do your makeup. Even if you aren't going anywhere.  Nothing fancy, but I promise, it will help you feel more alive.  Trust me. 
Get dressed in whatever fits. This one is can be depressing. Because when you have swelly belly, and stitches, and things that hurt, finding something other than baggie pajamas is hard. 
Even if it's the same thing over and over. Even if it's your baggie bottoms and a "normal" top for a little while. Or, another great option that I've discovered works well, is a loose-fitting t-shirt dress. I'm loving those right now.
You'll start to feel more like yourself. And if you're like me, when I can't fit into anything, I tend to reach for those sweet treats my friends bring over less and less. Know what I'm sayin'? And yes, my swelly belly is mostly from my body healing, but still. I don't have to sit depressed in my fat pants eating things that aren't good for me either. Can I get a witness?
Make whatever you are wearing look better with jewelry.  You're probably thinking…Wait a minute, "Aren't ya a little biased here?"   I know it's what I do, but before I was a jewelry lady, the only piece of jewelry I wore was my wedding ring.  Not even kidding.  Since then, I've learned a few tricks about the power of accessories and am going to share them with you.  And, yes, I have become a smidge addicted over the years. 
Have you ever heard the expression, "Not to brag or anything, but I can still fit into the earrings I wore in high school?"  There's a lot of truth in that. 
Here are a few of my favorite jewelry lady tips to help you feel your best:
A cute bold necklace draws attention to your face and away from all of the lower areas you may not love.  Can you say "swelly belly?" Yes, please look at my cute jewelry and not my swollen belly. Especially since foster love asked me the other morning when we were headed to church for the first time since surgery, "Mommy, what if people think you have a baby in your tummy?"  Um…. yes, thank you for pointing that out sweet love, but that's why I'm about to put on a gazillion pieces of jewelry!
A long necklace makes a baggy shirt look less frumpy. It creates a long line and elongates your frame making you appear thinner and taller.  I'm 5'1".  I need all the help I can get here. 
Earrings make you looked pulled together even on bad hair days. It never fails, I get more compliments when my hair is dirty, pulled back, and I have on some bold earrings.
Did you know that hoop earrings a quarter in size in diameter or larger make your face look slimmer? Anyone out there make dinner plate sized earrings?
And arm parties? Well, there just aren't words. Why wouldn't you want to draw attention to the smallest part of your body. Duh!
At my jewelry shows, I tell ladies this is called "Jewelry-Robics." Because, friends, if I can make myself look taller and thinner wearing beautiful jewelry, then pass the milkshake and fries. That's my kind of aerobics!
Smile at yourself in the mirror, spray a little perfume, and give yourself some grace.  It takes time to heal. Let the beauty inside of you shine outward. That goes so much farther than what you have on. So, smile and find something to be thankful for.  Aren't you glad the Lord gives us new mercies each morning?   
(Jewelry Pro tip: Put the perfume on and let it dry before you add jewelry though. It helps it last longer and keeps it looking its best.)
I promise these things will breathe life into you more than you realize! They have for me!
Putting it into Practice
This morning, I got up, got a shower, sang my little heart out, and curled my hair. I skipped the make-up for now because I just did an amazing face mask. I found a T-shirt and cardigan that still fit with my 1 pair of comfortable soft waist leggings. I then infused my look with spring jewelry because it's raining, and right now I just want spring.
Pajamas Level II
Did you know that "Pajamas Level II" is actually a thing? Well, at least at my house it's a thing, so I decided to give it a name. "Pajamas level 2" is where I switch out my pajama bottoms for leggings, switch my sweat shirt for a t-shirt, and just add a bra. It still feels like pajamas and looks like pajamas until you add accessories. Throw on a cute cardigan or kimono, add jewelry, and voila! You go from pajamas to an outfit in a snap.
Pajamas level II is something that you could actually go somewhere besides Wal-Mart in. Just sayin'.
So even though I'm wearing what feels like pajamas, my kids will ask me as soon as they get home from school, "Hey mom, where are we going?'
 Shop the look:
You can find the beautiful Island Vibe Necklace and Island Vibe Earrings by clicking these links.
You can find my new favorite bracelet, the Canal Bracelet, by clicking this link. Isn't it adorable!? And it has a magnetic clasp too! So cool!
Each purchase of Premier Jewelry supports missionaries and ministries all over the world. If you use my link, your purchase supports our little foster family as well, and we are so grateful.I love that with Premier Jewelry, and soon to be expanded into an entire marketplace called Devoted, you can always shop with a purpose!
And my cute graphic T? That's from my favorite online marketplace, Jane.com! Love them! Check out their Daily Boutique Deals !
XO,
Brooke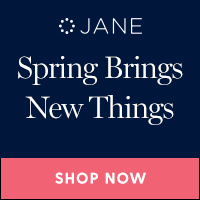 Sharing is Caring! If you've enjoyed today's post, I'd be so grateful if you would share it with your friends. Thank you!